The DEWALT Bare-Tool DC820B 1/2-Inch 18-Volt Cordless Impact Wrench seems to have gained a rather notable following among power tool buyers and users, probably because it promises 1,740 inch-pounds of torque at a price of under $100 (without battery, which is one "bare tool" means!). Not only that, but it is currently the number one seller on Amazon and offers an extremely high customer review rating.
This cordless impact from DeWALT is more than simply a relatively cheap option–it is nothing short of an amazing value, especially considering its quality, performance, and the fact that there are many cordless impact wrenches out there promising less amounts of torque but at much higher costs. Apart from perusing The Best Impact Wrench Buying Guide, the next best thing is to look at individual wrenches and then cross-compare the ones which seem to fit your needs best.
So Let's Dig Into the DeWALT DC820B
Features
1,740 inch-pounds of torque
No load speed of 0-2,400 RPM and a 0-2,700 impact
Square 1/2-inch drive
Detent pin retention
Frameless motor with replaceable brushes
All-metal transmission
Weighs only about 2.2 pounds and measures just 5-3/4 inches
An anti-slip grip
A built-in LED light
A heavy-duty, magnesium gear case.
A three-year limited warranty
Benefits
This Dewalt DC820B packs more punch than its cousin, the DC823B, which is only able to produce 1,500 in-lbs of torque in comparison.
It is also more powerful than another Dewalt impact, the DC825B, which has only 1,330 in-lbs of torque. The DC823Band the DC825B typically cost a bit more than $100 (hover or click links to view current prices), while the DC820B offers amazing results for less. Believe it or not, this little impact is actually cheaper than both of the other tools, so if you are trying to make up your mind which cordless impact drill you will buy, it only makes sense that the DC820B should fit the bill.
But, you may ask, how am I going to use the DC820 if I need to use a 3/8"or a 1/4" inch impact wrench? Well, that's easy: buy some adapters and you'll get full range functionality.
A typical response to this would be "But if I spend money for adapters, then what's the point in saving money on buying a cheaper impact wrench?" Again, that's simple: first of all, TORQUE! This wrench is stronger right from the gate, so how could that NOT be important and useful? Second, buy purchasing the the DeWALT DC820B and adapters, you will be able to use that great power in all applications and situations. Buying the impact wrench adapters is something you would have to do with the other wrenches as well, if you needed it for various applications.
With adapters, you won't need cordless impact wrenches with lower torque than the DC820. That's common sense right? You wouldn't want redundant tools, would you?
But back to the Dewalt 820B. This cordless impact wrench also has a built-in LED light, useful for working on pretty much everything under or inside your car where normal light or even shop light can't reach.
Moreover, you'll have light focused right where want or need it. It is an overlooked but practical feature; most certainly it is something which you will thank DeWALT for when you need to change your tires on the side of the road at night, every time you work indoors, or in a poorly-lit area inside your garage.
How about that Dewalt 820B and its frameless motor?
There are no housings, feedback devices, or bearing for this tool, making the impact wrench much easier to clean. For the Dewalt 820B, having a frameless motor comes with the promise of extended durability and life.
This cordless impact wrench also has a brush. Now that wouldn't seem like an advantage, but the Dewalt 820B promises an easily replaceable brush for easier serviceability and maintenance. To add to this, many cordless impact wrenches nowadays have gone the same route, but remember that not all brands or companies are created equal. DeWALT has built quite the reputation for value to the customer by way of several avenues, and customer service is by far not the least of them. Their tool reputation precedes them, but their customer service is the untold hero behind the scenes.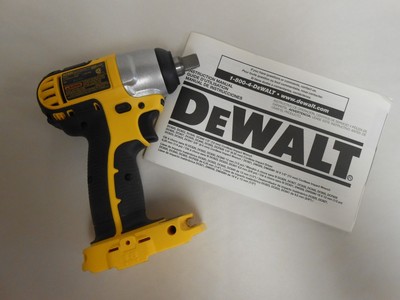 Things to be Aware Of
By now, you probably realize that we promote this particular tool and believe it is not just an affordable and effective cordless impact. While some others also say that this impact wrench is the one you want, still others claim that the DeWALT 820B is not really as powerful as the manufacturer or advertisers claim it to be.
It reminds me of the times I buy the "FAMILY SIZE' potato chips and realize that I'm getting at least 50% air. Luckily, the DC820B is not in this category!
Some reports say that this impact wrench has a difficult time making some big nuts or bolts budge or that it is unable to even move a nut which was torqued at 90 ft-lbs, as in their experience the 820B maxed out at 80 ft-lbs.
Other reports weigh in that the one they bought didn't work at all or that it just died or started developing grinding sounds after just a short while of use.
In some of these cases, it should typically be considered a manufacturing defect; in some of those cases, however, it could be viewed as exaggerated advertising, assuming there is a widespread, duplicated occurrence.
Factors like misplaced expectations can also come into play because although the Dewalt 820B promises power, it is still a hand-held portable compact power tool and it might not be able to remove nuts and bolts (especially rusty ones) that were installed using a conventional and more powerful air impact wrench that uses those big old air compressors.
One thing is for sure: you can't expect this cordless impact wrench to give you a NASCAR pit crew-like speed in tightening and loosening nuts and bolts. While it gives you an amazing return on investment and performance, it would be folly to become dissatisfied and angry with it for not performing toe-to-toe with its professional-grade relatives.
The Dewalt 820B can also be notorious for emitting a slight burning smell, especially because the motor of the impact wrench is not a brushless motor. Friction is therefore expected of course, but that can also be expected from any other power tool, so this should never be considered a important issue unless it gets out of hand or beyond the normal range (which should be obvious to the user of cordless impact wrenches–especially seasoned ones).
Aside from the fact that this model does not sport a brushless motor, another thing that contributes to its cheap price is the fact that it does not come with the battery, which will increase your overall cost unless you already happen to have the correct battery/batteries and approved charger.
Simply and truthfully, it's sort of like those attractive toys advertised on television that your kids drool over – charger sold separately, batteries not included! Still, we cannot be overtly bothered by this fact for a couple of simple reasons. The fist is that the price is still amazingly low and even its less powerful cousins require you to buy their power sources and batteries separately. The second is that bare tools are very common nowadays, therefore it's not like DeWALT is just trying to trick or get more money from people–all companies offer the bare tool route. After all, does every tool purchase require a battery and charger? Nope.
If you already have existing Dewalt power tools that use the same interchangeable battery pack then this won't be a problem for you at all but, if you don't, well, that's just the way the cookie crumbles. This cordless impact wrench is pay to play, just like any other cordless power tool!
Bottom Line
The Dewalt 820B openly promises good power at a cheaper price–often much cheaper than similar and even less powerful cordless impacts. There is absolutely no doubt that it is more powerful than some of the fancier cordless impact wrenches out there, but just how powerful is it really?
Maintenance on this model is a thumbs-up because it can be so much easier due to its frameless motor and replaceable brush, but it is still often asked "Why is it not a brushless motor? Would it be easier if it was?"
Some speculate that if DeWALT had made these changes to this model, then it would have resulted in a stronger, more powerful model. Our response to that? Maybe–but it would probably be pricier, as well.
Given its overall power, design, quality, price, and support, there is a high probability that this cordless impact wrench will do every single bit of the small work that you need and can dream up.
However, how about the big tasks, heavy-duty jobs, and the rusty nuts and bolts that have been stuck in place for years?
Overall, when we consider the big picture, we give this cordless impact wrench a 7 out of 10.