The 1949 song "If I Had a Hammer" may sound sweet and old-timey,
but the original songwriter claimed it had to do with wanting more power. For major power tool users in either of the Bosch vs Makita camps, the demolition hammer would certainly satisfy that need for more power.
Whether, like the song, you're hammering in the morning or the evening, you'll want to find out the differences between these two tool types and choose which one best suits your needs.
Now it's time to drop the standard hammer you currently have and let's nail down the options of which is better in the Makita vs Bosch matchup.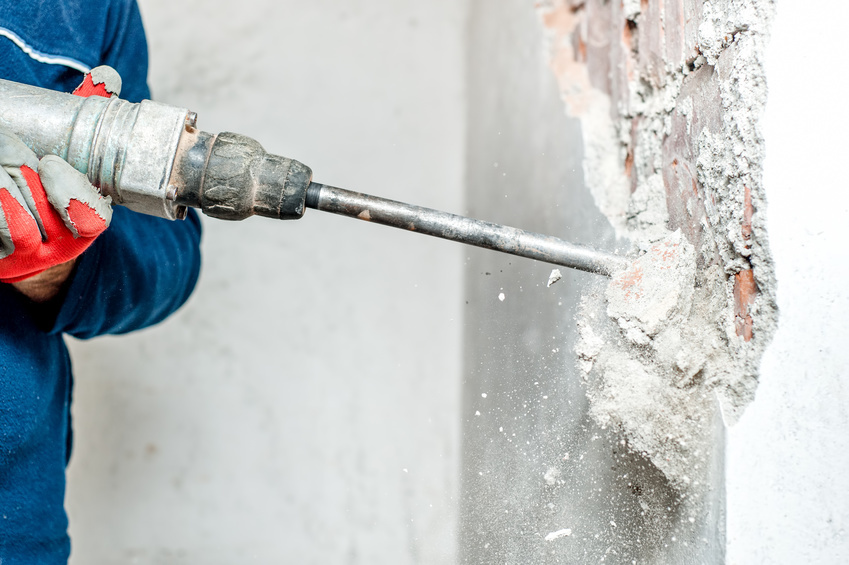 Breaking Down the Breaking
Do you have something big, heavy, solid, and possibly dangerous that needs to go? And no, I'm not talking about your sister's new boyfriend or a displaced alligator in the neighborhood lake.
Whether you need to break down or remove a wall, floor, ledge, or other concrete and similar surfaces, this is definitely no project for a tiny tool! In another article I updated recently, I shared a brief history of my own personal background in remodeling demolition for a friend of mine.
In the early stages of that work, I was quite frustrated because he didn't actually provide me with the types of tools I needed in order to get the job done quickly, easily, and thoroughly. The truth of the matter is that I had a hammer, flat bar, and crowbar, but nothing that was powered and capable of actually getting the work done in reasonable fashion.
Fortunately, there are some good choices you and I can look into for a variety of hard-material demolition, pounding, drilling, and more. Some of these are:
A demolition hammer is the highest-level, most powerful, and optimal tool of choice as it is built super sturdy and essentially created just for breaking ground–whether man-made or not–literally.
Now don't get confused: you may have a really great hammer in  your toolbox, but I believe that if you are seeking to knock out some old tiles, cement, or concrete, then you'll truly want a demolition hammer for this kind of work. You may have heard of a jackhammer much more frequently–and perhaps you aren't aware of the difference between this and the demo hammer–but you'll soon get to know (and love) the demolition hammer.
In short, demo hammers are a bit smaller than their bigger, more popular and well-known brothers the jack hammer. They are hand-held, combine electricity-driven motors, piston mechanisms, internal hammers, and chisel-attachments for their chucks.
If you set one to task, then you'll soon find out why these smaller tools offer up some excellent, super-sized hammering returns.
In fact, the University of Kansas reported in June 2017 that a demolition hammer was actually one of the tools used as part of an archeological dig in order to excavate a Tyrannosaurus rex.
It's beyond impossible that any of us will be finding the remains of a dinosaur in our walls or floors, driveways or basements, but it's likely that the producers Bosch vs Makita want you to "discover" the benefits of their tools just the same!
Meet the Contenders: Bosch vs Makita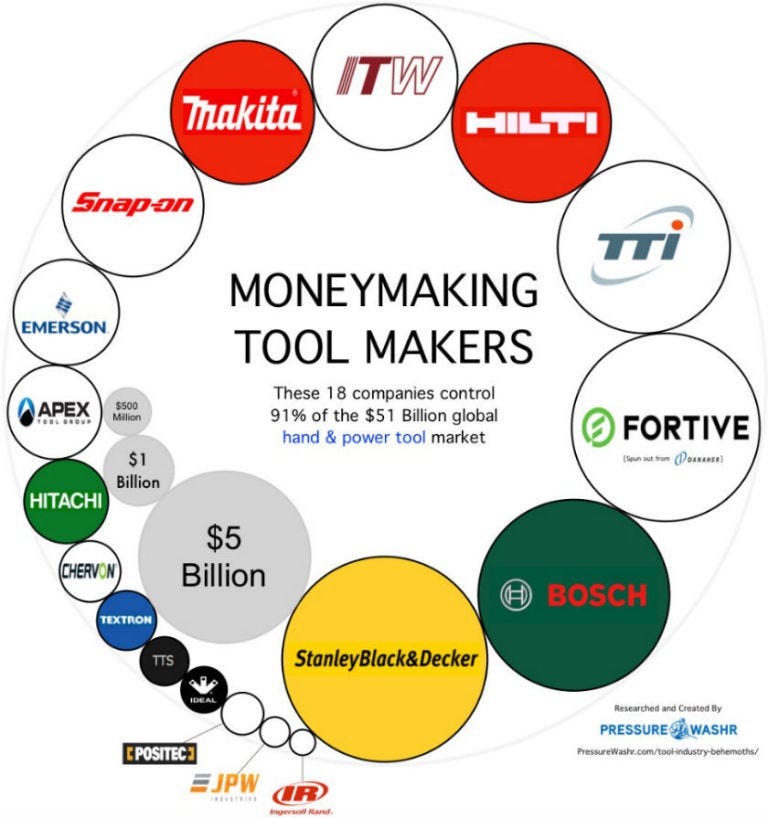 The fans have spoken and after looking about for the most popular comparisons, I've narrowed down the contenders for the demolition hammer smack-down to just these two.
The reasoning is simple: both of these companies are true heavyweights in the tool world and not just in terms of these particular ones. Together, these two behemoths are part of the top 10 tool companies in existence, and considering the actual scale of that comment, it's quite an achievement (you can take a look for yourself at the Popular Mechanics infographic to the right).
For your enjoyment, today's ticket features Bosch in one corner and Makita in the other, but before they come out swinging, it's time to learn a bit more about each individual competitor, their specifications, benefits, and possible shortcomings.
After all, what type of film shows you the final fight and outcome first, before you get to know and identify with the competitors and background story? Sure, you might get a teaser, but the good stuff won't come until later!
Bosch is an old company with its roots in Germany and, having been founded in 1886, has been around for over 100 years. It owns over 60 various brands and subsidiaries internationally and makes up a bulk of what we see on the market today, regardless of the brand name we seek.
Makita is also a rather old company which hails from Japan. Founded in 1915, they are well-established internationally as not only a multi-dimensional power tool and solution provider but also the same, common reputation for quality that  Japanese companies in general also have.
Introduction to Bosch
I believe that if you want a rotary hammer that can truly stand up to a variety of solid materials and handle concrete well, then this would be a good option.
Coming out of the corner of the ring is the Bosch RH328VCQ 1-1/8-Inch SDS Rotary Hammer Kit.
Some serious fans of Bosch's hammer cite its comfort as a winning factor. Many users say that you won't experience as much fatigue when drilling for longer periods, as the hammer's construction is specifically designed for it and meant to downplay vibration for the user.
This is a huge bonus which can really help on concrete and other extremely hard surfaces that don't offer much forgiveness. For tougher jobs, wear and tear on the user can actually be much higher than it is on the tool itself when the design isn't balanced well, and this particular tool seems to satisfy that balance.
The key features of the Bosch rotary hammer include the following:
2.6 foot/pounds of impact energy
A Long Electrical Cord
Ergonomic, Comfortable Design
A Rather Lightweight 14 pounds
4,000 blows per minute
A Multi-Function Selector Switch for Different Applications and Results
360-Degrees of Rotation
Carrying Case Included
Overall, Bosch has created a solid but lightweight tool that also brings together excellent performance in two key areas.
Like a good cop, it shakes down the bad guys while keeping you from harm.
Meeting the Makita
And now for the other featured competitor–perhaps from the sumo ring–the Makita!
Facing off against the Bosch is the famous Japanese Makita brand of cordless power tools.
Obviously, the Makita brings the benefit of cordless capability, which can the cord that tethers you to the necessity of an outlet. If you are on-site in a situation which offers no current or easily-accessible outlets, then having this option is a must.
Now, we are completely free to be like the dog and roam around anywhere we like, putting holes here and there.
Drill around the cabin. Or garage. Or worksite. You get the idea.
Fans of the Makita HR2811FX 1-1/8 Inch Rotary Hammer SDS also have a lot of things they like about this hammer.
Its key features include the following:
It has a Quite Powerful 7.0 AMP Motor
Built-in Torque limiting clutch in order to prevent gear damage
19 pounds in total — heavier than the Bosch but more useful for certain applications
Sequential impact timing which delivers precise hammering
Cordless design with ample battery life
Built-in LED light for less-than-ideal lighting conditions
Soft grip handle for improved handling
Two or More for One? The Combo Smack-Down!
Demolition isn't meant to be pretty. Actually, it's one of the few things that looks prettier the faster and better it destroys!
When we're arms deep in a pile of concrete, why should we have to stop what we're doing and fish around for multiple tools?
Ultimately, I believe there is some really good news here: no matter where you stand on the Bosch vs Makita debate, you can find a combo tool that suits your preferences.
The Bosch entry into the best impact/drill combo competition includes the Bosch CLPK232A-181 18V Lithium-Ion Cordless Drill Driver/Impact Combo Kit.
The name of the product may be long, but so is the list of benefits you'll get by going for this two-in-one tool.
Users have cited the benefit of this tool's small footprint. Don't get confused by the word "small" here – the Bosch is more compact, but it's certainly not less powerful than other drills in its class.
At only 3.5 pounds, this combo tool still brings 3,200 BPM and 2,800 RPM to the table.
The combo kit comes in several varieties to suit most construction needs and offers features including:
18-volt canned motor
Upgraded chuck
Batteries and charger
With the Makita, you don't just get two for one capability.
For those who get the Makita XT448T 18V LXT Lithium-Ion Cordless Brushless Cordless Combo Kit, you're getting a four-plus tool combo for one price.
Combo tool kits just make sense, especially if you're on the go and want quick grab-and-go access to your stuff.
The goods included with this Makita kit:
4-position flashlight with Xenon bulb running 7.5 hours on charge
2-speed 1/2″ hammer Driver-Drill, 1090 in. pounds of torque
Recipro saw with 1 1/4″ stroke, 0-2,800 strokes per minute, 8.1 pounds
6.5″ circular saw, 5,000 RPM, 7.3 pounds
The entire bag of tool tricks includes a three-year warranty and all tools feature ergonomic handles.
Polling the Crowd
If you've ever been to an actual fight night, you know it's nearly impossible to hear yourself think with all the yelling, cheering, and taunting that goes on.
Still, it can be beneficial to hear what others are saying, especially if you're still a bit undecided over Bosch vs Makita.
One way is to read up on the latest reviews of these tools.
Another way to learn is to actually see the hammers in action.
Don't worry if you can't get to a tool shop or if the ones in your area don't carry these brands.
Check out sites such as YouTube and search for videos with your featured hammers.
For example, you can search "Bosch Demolition Hammer" and get hundreds of videos, or you can be more specific and search for your exact desired model, such as "Bosch GSH 16-30 Demolition Hammer."
The more specific search, the fewer results you'll get, of course, but they'll be more targeted to your potential new tool.
Beware of the "sponsored" ads masquerading as videos by the manufacturers, which should be clearly labeled, but sometimes aren't.
Vote for Bosch vs Makita Now!
Are you team Bosch?
Or is it Team Makita all the way?
We want to know.
We love talking tools and hope to help you with any decisions you may be making.
Click here to send us a note. You can include details and links to tools you're considering or want advice on.
We can tailor help to your particular area. You'll also find valuable articles and reviews and more smackdown challenges that take you tool to tool on our website.
It's our goal to outfit you with the best tools possible. Make your voice heard today!